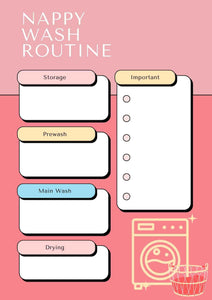 Free digital download to guide your wash routine.
Fill in our template and personalise it to your specific routine. Leave it near your washing machine as a set of instructions or reminder for other people who need to do your wash. 
The perfect way to keep on top of your laundry and leave simple directions.
View our simple wash routine example and guide here or for personalised wash routine advice join our Peanut and Poppet Hangout or email nappyadvice@peanutandpoppet.com.

Please check out with digital downloads separately from physical items.