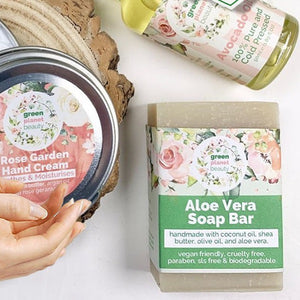 Green Planet Beauty cleansing bars are handmade from the finest ingredients and pure essential oils. Using olive oil, coconut oil and shea butter for a naturally moisturising soap with a rich lather. Use as a facial soap to cleanse, heal and nourish skin while removing make-up. Can be used all over like regular soap.
Gentle ingredients suit sensitive skin with no fragrances or synthetic ingredients. Just the finest natural ingredients to create a smooth and creamy lather to care for even the most delicate skin. Sustainable and earth friendly, cruelty free, SLS free, paraben free, vegan and palm oil free.
Rich in Vitamin A, C and E. this cleansing bar supports and maintains healthy skin.  Made from Aloe Vera, Shea butter, Olive oil and Coconut oil.
Shop here for all our eco skincare.